Research Track
>
Information Processing
>
Ontology based Search Engine
Ontology based Search Engine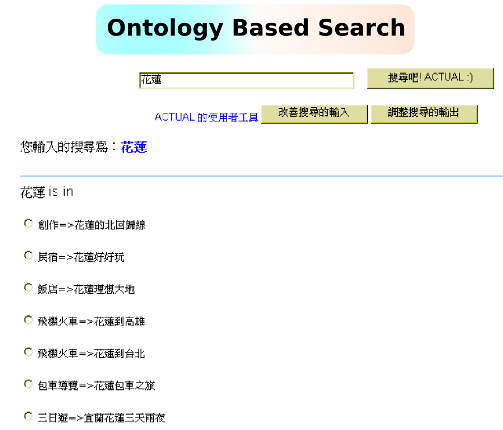 A search engine is designed to provide additional services based on the pre-defined ontology model.
Haulien Travel Search provides popular hot spots, travel plans, foods, and activities about Haulien from ontology while a user enters keywords.
Melamine Identification Search identifies whether melamine (C3H6N6) exceeds the standard and adds certification tags on search results of milky foods based on the ontology.
Haulien Travel Search
When you are searching an unfamiliar target (Travel in Haulien). You will try a general keyword (Travel+Haulien) to get first impression from search results. According to the results, you learn some interested things from some result pages. Then, you start a new search to hit the interested things about the target exactly.
Ontology Based Search offers domain knowledge while you are typing general keywords before real search execution. You can learn the concept of the domain and know your search target. Then the ontology based search passes the query to search engine to get the search result that you really want.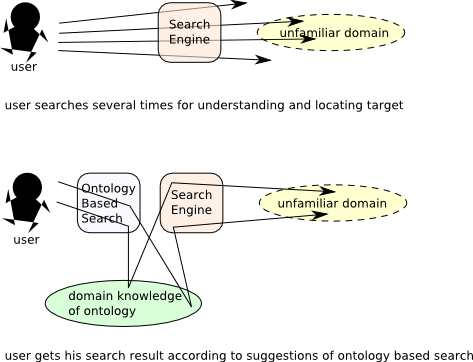 Melamine Identification Search
In Taiwan, people fear that food contains melamine. For lots of people, they can not make sure whether their food is safe or not. Ontology Based Search offer melamine tags on each food related search result according to the food and melamine ontology. The Melamine Identification Search uses ontology to analyze food title in the search result. According to the evaluation result of Bureau of Food and Drug Analysis. Melamine Identification Search inference the Melamine Warning Tags to the related food titles in the search result.